The Northern Oregon Coast has transitioned from a logging and fishing community to a hotbed of bohemian and touristy delights since the 80s. This transformation has elevated the international visibility (and prestige) of a once provincial artist community.
The Warrenton Warrior doesn't make assumptions, and I assume the emergence of a world-class art scene in Clatsop County has completely eluded you.
In case it's been a while since you visited the Reina Sofia, Tate Modern, the MoMA or Palais de Tokyo, or you rarely peruse the pages of ARTnews, let me introduce you to 10 of your most emerging local artists in 2021.
Below, you'll find important details on their preferred medium, a brief description of their work(s), and a scientific ranking of their achievement based on net sales, critical acclaim, and their respective "share of wall" space at the RiverSea gallery from 2011 through 2020.
12. Meghan Butler (Acrylic on Canvas)
Meghan Butler is Astoria's answer to the German Expressionist movement of the early 20th century. Meghan spent the first two decades of her career carefully copying works by Franz Marc, Rudi Feld and Otto Dix. Now she's doing her own thing, with a focus on massive psychedelic animal heads rampaging natural environments.
Her latest work highlights an ongoing debate in conservationist circles: who's really to blame for ecological catastrophe? Humankind? Or the inbred and genetically compromised Elk roaming the streets of Warrenton with impunity?
11. Chad Cunningham (Chainsaw on Wood)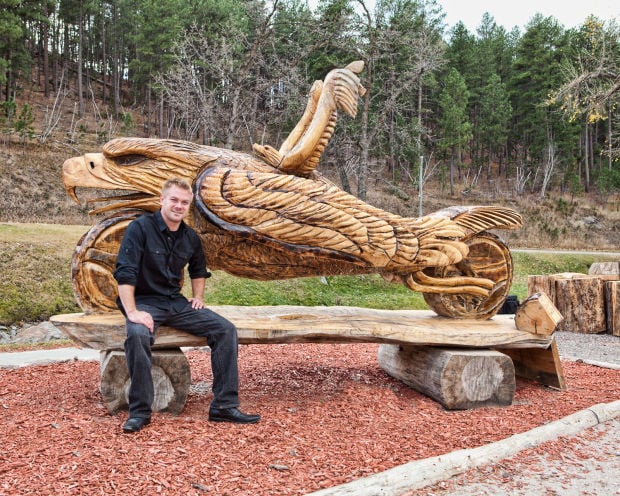 Chad crash landed into the Clatsop County art scene in 2019, with his solo exhibition, titled "Nazareth's Hair of the Dog", at the CCC Royal Nebeker art gallery.
In a recent interview in Artforum, Chad explains, "I got my inspiration from Cherie Currie. I had this odd obsession with the Runaways when I was 12 or 13 because their live fast, die young ethos resonated with me. I was already into drinking and drugs and all of that stuff. Well, one day I was up late Google-stalking the Runaways and stumbled upon Cherrie's website, Chainsawchick.com. That sh*t saved my life."
10. Craig Nussbaum (Poetry on Seaside's Promenade)
Craig Nussbaum's daily poetry slams on the Seaside Boardwalk draw large crowds during the summer months when he recites homeric verses in the great oral tradition. Slightly less popular are his dirty limericks that take place during the rainy months. But if you are in for a treat if you can brave the gale force winds. Craig's ability to find words that rhyme with "hunt" and "brass" are unmatched.
9. Janie Lindig (Boho on Body)
How do you let the world know that you're into art if you're over 60?
Leave it to Janie Lindig, who tells all of her friends to follow 5 simple rules:
1) Wear at least one animal print item
2) Large mineral-based and/or mettalic necklaces are a must
3) Pants, leggings and/or top must be black
4) Wear accessories that "pop", ideally yellow, orange, or red either as a handbag or shoe/boot
5) Avoid bright pinks and fluorescents rarely seen in nature, which can create an unnatural, gothic, or "low-brow" look
8. Sofia Gratitis (Shells on Household Objects)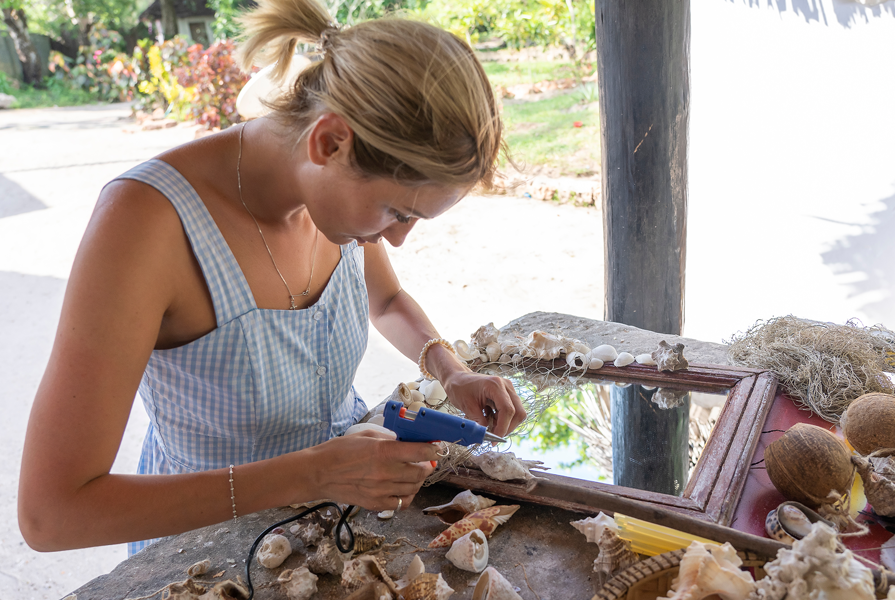 Clatsop County's ratio of hot glue guns to sea shells is the 8th highest in the nation, behind legendary seashell art hubs such as Lee County, Florida and Calvert County, Maryland. It can be difficult to stand out in a commoditized art market like seashell arts & crafts. But Sofia stands alone with a biting absurdity in the application of rare and wondrous oceanic treasures onto banal everyday items, including coffee mugs, jewelry boxes and mirrors.
7. Ryan Mickelbuns (Pocket Knife on Wood)
Ryan's known for not being a "people-person". Ryan's assistants sell "treasure maps" at an understated Astoria Sunday Market booth that provide a visual guide to his studio and his highly-coveted staves. Or is it staffs? Either way, the maps will show you the topography (and abundant booby traps) on his 15-acre Jeffers Garden property and, ultimately, where you can find Ryan. While the maps are cheap, his work isn't. Expect to shell out high 5-, low 6-figures for one of his creations.
6. Hans Krebs IV (Mixed Media on Deer)
Accoding to Hans, "[Hans] came to Astoria to do two things: grip some rips and make assquatches. And you're on notice, art world, because [Hans is] all outta weed."
5. Manzanitiac Mickelbuns (Cars on Acreage)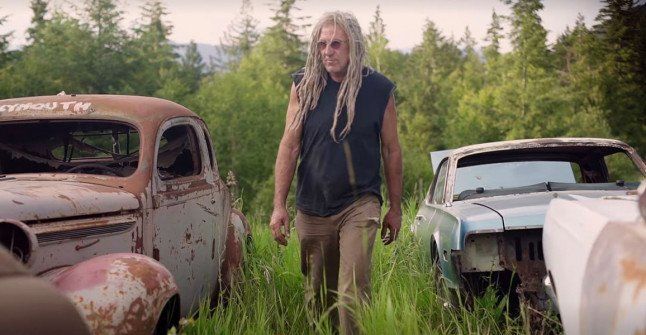 Manzanitiac Micklebuns has spent the better part of the last 40 years purchasing automobiles, parking them on his remote southern Clatsop County property, and letting entropy have its way with them. And no, they are not for sale.
4. Leah Blaze (Plastic on Yard)
Leah inherited her Hammond property from her grandmother, former steward of the Flower Queen and ravenous collector of buoys, anchors, discarded fishing nets and various man-made sea waste. Little known fact, the various plastics decorating the artist's yard are slowly decomposing, finding their way through Warrenton's culverts, and being deposited into the Columbia River watershed. It's easily the most temporally ambitious art installation in Clatsop County today.
3. Kyryll Fedoranko (Banal Horrors on Canvas)
Kyryll Fedoranko's claim to fame is this image of a woman running from sea lions while holding a cup of coffee, which was printed in a Portland magazine/periodical at some point recently. He has a gift for capturing the overlooked, banal horrors of life in Clatsop County. This includes lawn slugs, another fast food place in Warrenton, the monotonous management of unsightly red alders and blackberry bushes, wet sock smell, 19th century Scandinavian nostalgia and the fact that Clastop County never resolved the loss of the world's tallest Sitka Spruce during that crazy storm in 2007.
2. Antoine Radcliffe (Rubber on Asphalt)
Antoine Radcliffe is an art factory. His ability to scale production looks something like this: Do some meth, don't sleep for 2-3 days, build up inspiration to spray paint truck with many different colors, spray paint truck with many different colors, develop fear that some authority figure, supernatural entity, or alien-life form is tracking you like a predator. Finally, evade that predator in by doing donuts in a parking lot. Rinse and repeat.
1. Butt Crack Boyz (Graffiti on Public Infrastructure)
The Butt Crack Boyz is believed to be a collective of anonymous, probably adolescent male artists in Clatsop County. They provide a uniquely small-town aesthetic to, otherwise unblemished, public spaces and also offer inscrutable commentary on politics, religion and the occult.
0. Fanny Benvenuti (Macrame on Civic & Convention Center)
Russel Vandenberg, General Manager at the Seaside Civic and Convention Center pays close attention to the data. Russell has been using sophisticated quantitative market research to track local business leader opinion about the Convention Center for almost a decade. Last Fall, when he saw the numbers quickly shift from from 79% "borderline ecstatic" to 80% "deeply ambivalent", he knew he had to take bold, corrective action.
Enter Fanny Benventui, whose whimsical macramé installation is reconnecting visitors to the Convention Center through at least three senses (haptic, visual and olfactory). Possibly four if you're brave enough to lick it.
-1. Tim Price (Performance Art/Pop Art)
Tim Price's mission in life is to bring impart his love of cinematic scores to the next generation of Clatsop Countyites. Joe spends countless hours on his Casiotone, re-writing the music to family favorites, such as Train to Busan, Deliverance, Leaving Las Vegas, and the 1997 Austrian film, Funny Games. He is known for screening these re-scored films in local schools and churches with orchestral accompaniment.
-2. Zack Nilsson (Installation on Sand and Promenade)
-3. Moloch II (Oil and Crayon on Canvas)
Some things are guaranteed in life. For example, there is always at least one person with a beret on display in the Astoria Public Library. Another example is the fine craftsmanship and indelible detailing behind Moloch II's baroque series titled, "Every Day Astorians", which is also on display at their public library.
-4. Frank Dulcich (Mixed Media on Pacific Seafood's Seafood Processing Plant)
The famous Pac Seafoods installation in Warrenton is equal parts magic and accident. The night before the Warrenton processing plant's re-opening night, CEO Frank Dulcich invited his advisory board members and senior staff to the plant for a special team-building exercise with a corporate management consultant shaman he had read about in the WSJ.
In Frank's words:
"The shaman consultant provided my advisory board and me with low doses of ayahuasca, which is very trendy in the business community right now. I was not anticipating its effect on us. To tell you the truth, I got pretty high… like no-sense-of-self, pee-in-your-pants sorta high. Anyway, I had the wherewithal to give my corporate amex to someone's chief of staff (I don't know whose it was) and said to them, 'go to Freddy's and just get whatever's on sale'. She came back with an assortment of landscaping and art materials, including paints, construction paper, pumice stone and colored sand. The [advisory] board spent the next 6-7 hours re-considering the space. Upon the conclusion of our ayahuasca journey the next morning, we were amazed at how much we accomplished. Not only had someone written a clear, visionary 3-year business plan in puffy paint on one of forklifts (which we are still following today), the space was completely re-imagined with a beautiful paper flower ceiling and colorful Martian landscapes. It inspired us to follow Google's famous 20 percent rule and allow our seasonal cannery workers in Warrenton to spend up to 20% of their time focused on innovating new products and solutions for Pacific Seafoods. We would have never done that before, but this space almost demands it."
-5. Susan Kreiger (Acrylic on Gull-Shaped Wood)
Susan is the originator of the Gulls Gone Wild movement, which has replaced the old boring wooden, painted Western Gulls we all grew up with wooden, painted Western Gulls that have clothing on them. This could include boots, hats, or even funny accessories like tobacco pipes or musical instruments. All proceeds from these little works of wonder go to the North American Western Gull Conservation Society.
-6. Janet Goldin (Colored Pencil on the Back of Used Bristol Paper)
Local writer and illustrator, Janet Goldin, has drawn international attention for turning Bigfoot erotica on its head.
"I just got tired of all of the old sexist tropes in Bigfoot fan fiction", according to Goldin. "I want to challenge the wildly out-of-date idea that only the male Bigfoot can be an object of desire. It doesn't have to be that way. Female Bigfeet are sexual beings too and they have their own powerful story to tell."
Okay, there you have it. Top 10 most emerging artists in Clatsop County. You're so welcome (and I'm so sorry).
Best wishes,
The Warrenton Warrior