The Warrenton Warrior is a casual reader of Clatsop County periodicals and the social media pages of its elected leaders. The Warrior has been fascinated by a common theme in local content: how California is destroying/will destroy the social fabric of the Northern Oregon Coast.
The narrative follows a common formula:
Not all is golden in the Golden State: California is economically, ecologically and spiritually bankrupt, with untenable housing costs, decaying infrastructure, rampant crime and homelessness, forest fires, massive power shut-offs, and a failing public school system
The quality of life in California is miserable and worsening; millions of residents there are lining up to move North to Oregon and Washington State
Californians drive up housing costs when they immigrate to Clatsop County, driving otherwise fine people into poverty or (worse) Idaho
Even when they don't physically move north, their horrendous politics and progressive policies often sneak northwards, tainting otherwise effective, common-sense legislation that keeps Oregon safe and livable.
And, being a native Warrentonian who has lived in California for the past 18 years, I can confirm it is all true. California is a total hellscape and you should never visit here.
Especially avoid the San Francisco Bay Area, where our communist, micro-dosing, free-market-embracing billionaire-class leads massive armies of homeless junkies, all looking to separate you from your hard-earned, small-town American monies and shock you with public displays of nudity, urination, and unchecked wealth.
Plus, there's too many tourists here already and you'll likely add unwanted traffic to my commute.
But why take my word for it? Let's conduct a scientific comparison between The Warrenton Warrior's hometown (that's Warrenton, you dummy) and his current residence, Mill Valley, CA.
(Ed. note- The Warrior hasn't lived in Warrenton in 23 years and has only lived in Mill Valley for about 4 years. He rarely spends any time in Mill Valley and only moved there because the schools are good and it's an easy commute to SF. So, I don't want to hear your righteous indignation after I inevitably get important details wrong about either place).
I've conducted my typical deep investigations and am rating both towns on 10 core metrics of livability, ranging from unemployment rates to average resident body fat percentages.
Here are my conclusions.
10: Grocery Stores
Mill Valley, CA Grocery Store Situation:
Mill Valley has 5 grocery stores within its city and school district limits: A Safeway, 2 Whole Foods, the small but charming Mill Valley Market, and a nicer version of a Whole Foods called, "Good Earth Natural Foods".
Mill Valley grocery stores are a complete friggin' mess.
I've only been in the Safeway a dozen times, maybe, usually to get canned foods I can't get at other local grocery stores (e.g., beef consume). There are never enough open registers, and the feeling inside is very much what I imagine late '80s grocery stores in the former Soviet Union to be like.
Mill Valley Market is actually pretty awesome. You can get your basics there, plus they have an excellent old-world wine selection, and esoterics I never buy but am glad are available if needed in an emergency (e.g., a wide selection of caviar). Leafy greens are of unpredictable quality and, while their seafood, lamb and pork is of very good quality, they source their grain-fed beef from some godawful ranch in the central valley of California that can't seem to get the marbling quite right.
The two Whole Foods also have a former Soviet Union-vibe, and frequently sport empty shelves throughout the store– especially after Amazon acquired them. And, unlike Mill Valley Market's full staff of capable butchers, both Whole Food's meat counters are staffed by green thumbs with questionable knife and customer service skills.
Good Earth Natural Food's parking lot is often too full, and the traffic patterns surrounding it are unfavorable for commuters. While their produce is arguably the best of any grocery store in Southern Marin County, they only have grass-fed beef (waste of calories) and their butcher/fishmongers give waaaay too much side-eye and/or eye-roll when you ask to test/evaluate the freshness of their seafood. And trust me, at the prices they charge, you don't want to spend $80 on a halibut filet here only to get home and realize it smells just like the fish counter at Safeway.
Mill Valley Grocery Store Grade: B-
Warrenton, Or Grocery Store Situation
To the best of my knowledge, Warrenton also has a total of 6 grocery stores: Fred Meyer's Food Department, Wal-Mart Super Center, Main Street Grocers, Costco, Natural Grocers, and someplace called "Smart FoodService Warehouse Stores".
That's a lot of grocery stores for a little town. What are you guys all eating up there?
Anyway, I never go grocery shopping in Warrenton. But, 4 years ago, I brought my family up to see my Mom in Astoria for Thanksgiving and went out to get (fresh) herbs for a few dishes that Thursday morning. Rather than go to where I knew they'd have what I needed, the Astoria Co Op, I went to Fred Myers because it gives me some sort of nostalgia blast. If I recall things correctly, Fred Myers had basil, but no herbs designed to season stuffing or any Fall vegetable dish (e.g., thyme, sage, etc.— I mean the fresh sort, numbskulls, not the dried stuff you add to soups and stocks). Freddy's also failed to stock any usable form of pancetta (you need that stuff to make vegetables taste good, Warrentonians!) or butternut squash– which seems like a no brainer in November. Talk about Soviet Union-style grocery shopping, right?
I assume that everything's still pretty bad there. But, hey, you tell me. You all live there.
And at the same time, hats off to you, Warrenton. I bet your grocery stores could support a town of 100,000 if needed. What an incredible and impressive scope of retail grocers.
Warrenton Grocery Store Grade: C+
Grocery Store Winner: Mill Valley (barely)
9: Assholes
Mill Valley, CA Asshole Situation
Mill Valley is a relatively small commuter town, about 10 miles North of San Francisco, and just west of Highway 101 (just like good old Warrenton– the Warrior apple doesn't fall far from the Warrenton tree). Over the past 40-50 years, native Mill Valleyites have been slowly replaced by affluent newcomers from other parts of the U.S., who work in SF but prefer to live in the relative quietude of Marin.
Mill Valley is an interesting experiment in socioeconomic diversity or, more specifically, what happens when there isn't any. To my knowledge, almost everyone in Mill Valley is a boss or executive of some sort– the type that are rarely told, "no" or have to cater-to or closely consider the needs of others. These are the people who surround themselves with executive assistants, personal shoppers, interior designers, nannies, and have financial planners. It is unlikely that they suffer from wait-times when calling their bank. They inhabit the highest status tiers on their preferred airlines, and they are not accustomed to standing in any line in any setting.
In a healthy community, maybe 2% to 5% of the population looks like this.
But imagine a town where everyone expects everyone else to cater to their needs and get out of their way. Is it grotesque? Absolutely. But it's also delightful to see genuine shock and alarm on everyone's face when nobody will yield to each other's shopping carts in Whole Food's narrow aisles. It's a uniquely Mill Valley game of chicken and the irreversible future of wealthy suburban life on the outskirts of America's most affluent cities.
Don't forget that Mill Valley (and Marin more generally) is the birthplace of EST and self-actualization. It's ground zero for complete assholes. Try competing with that, Warrenton.
Mill Valley Asshole Grade: A+
Warrenton, OR Asshole Situation
I can't confirm the physical presence of many assholes in Warrenton right now. I guess there's those amateur graffiti artists. They'd count. And there's that person who had the confederate flag in front of their house a few years back when I last visited. They'd count too, of course.
So, what is that? Like, maybe 4 confirmed assholes? Need to do a lot better, Warrenton.
Warrenton Asshole Grade: C
Asshole Winner: Mill Valley
8: Weather
Mill Valley Weather Situation:
It is usually between 45-65 degrees Farenheit in Mill Valley. It rains maybe a total of 20 days, between November and March. It never rains between May and October.
Mill Valley Weather Grade: B+
Warrenton Weather Situation:
It is usually between 35 and 55 degrees Farenheit in Warrenton. It is clear maybe a total of 20 days each year. It always rains between October and May.
Warrenton Weather Grade: C+
Weather Winner: Mill Valley, CA
7: Waterfowl Hunting
Mill Valley, CA Waterfowl Hunting Situation:
There is a pretty sweet bay along the Eastern Edges of town, which would be perfect for hunting geese and duck. Same goes for quail on the western edges of town, along the base of Mount Tamalpais. And I'd be on a serious mission to permanently silence the ravens and crows that inhabit the redwoods in front of my house during daylight hours, if I knew I could do so under the protection of the law (I can't). They're obnoxious, they're predatory on native species, and I simply don't respect their right to exist.
While I can't find a single piece of information about waterfowl hunting on the City of Mill Valley website, I'm pretty sure that the local police department would descend quickly upon anyone building a duck blind within the city limits. Mill Valley is the sort of place where, if someone saw you wearing a Cabela's or Bass Pro Shop hat, they'd assume you were doing so ironically.
Wasted opportunity, Mill Valley.
Mill Valley Waterfowl Hunting Grade: F-
Warrenton, OR Waterfowl Hunting Situation:
Little known fact: You can hunt birds from much of Warrenton's pristine waterfronts, including much of the Warrenton Waterfront trail, from Tansy Point to the Warrenton Regional Airport.
Two other places that I had never considered hunting from before that are, apparently, on the Warrenton table:
The Youngs Bay Bridge. According to this map, you can hunt waterfowl from the bridge itself. Dynamite.
You are also, apparently, allowed to build a duck blind on the Western edge of that cemetery north of Smith Lake and hunt for waterfowl over the smaller, more wildery, and appropriately titled, Wild Ace Lake.
Warrenton Waterfowl Hunting Grade: A
Waterfowl Hunting Winner: Warrenton
6: Music Scene
Mill Valley, CA Music Scene Situation
Mill Valley had it's cultural peak in the 1970s and 80s, when it hosted some of the hottest musical acts of the day.
Grace Slick and other members of Jefferson Airplane, as well as Bonnie Raitt, lived in the dark depths of Cascade Drive in the 1970s– the last time it was probably fun to live in Mill Valley. Rumor has it that John Lennon and Yoko Ono rented a house here one summer in the early 70s, but that was way before I lived there so i can't confirm that they were here or which of our two Whole Foods they would have shopped at.
Not all musical acts in Mill Valley came from elsewhere. There's been a surprising number of blue-eyed soul (or R&B?) acts from Mill Valley including a band that nobody's heard of called Sons of Champlin, as well as a band that no Millennials have heard of: Huey Lewis and the News. Little known fact to people who live in Warrenton, Oregon: The album cover for the latter's 7x platinum record, Sports, was photographed right inside of the 2 AM Club on Miller Ave– the only bar open past 8:30 PM in all of Marin County (Mill Valley is prominent in Huey's artistic works. The album cover to Fore! is a photo taken against a wall at Mt. Tamalpais High School, and their low-budget video for "Don't Ever Tell Me That You Love Me" was filmed at the Mountain Amphitheater on Mt. Tam).
Huey Lewis isn't the only famous person to have attended Tamalpais High School. Tupac Shakur is another famous alum who attended for a year or two while living with his aunt in Marin City (which shares Mill Valley's Tam High, along with Sausalito residents of a certain age).
In the same way that some believe dinosaur and man once roamed the earth simultaneously, I believe Huey and Tupac once roamed the halls of Tam High together— two young, nerdy music enthusiasts, with a mutual love of esoteric R&B, soul and funk, passing self-consciously-crafted mixed tapes and CDs back-and-forth between classes.
Modern and relevant contemporary musicians can't afford to live in Mill Valley today, unfortunately. But some of music's greatest dinosaurs still roam its streets. Especially Bob Weir, former guitarist for the Grateful Dead, who frequents the parking lot across from his music venue, Sweetwater Music Hall. Sammy "can't drive 55" Hagar can also be found peeling-out on Blithedale Ave in his 1982 Ferrari 512BB, right after his long, nightly shifts as a line cook at El Paseo.
Mill Valley, CA Music Scene Grade: C+
Warrenton, Oregon Music Scene
While Warrenton does not host notable musicians within its environs, it does contain a sweet rift in space-time that provides Warrentonians a glimpse into a prehistoric figure in 1970s stadium rock: Ted Nugent. Nugent can be found in Warrenton's geometric mean, directly in one of the regions finest (and legal) waterfowl hunting areas.
Warrenton, OR Music Scene Grade: C+
Music Scene Winner: Tie
5: Cost of Living
Mill Valley Cost of Living:
This is a tricky one, because the average cost of everything is higher in California than Oregon. But, the San Francisco bay area economy is more 21st-century than Clatsop County's, resulting in significantly higher median salaries in Mill Valley than in Warrenton Oregon.
According to some unrigourous Google searching, the average Warrentonian household brings in a little less than $40,000 annually, while the average Mill Valley household is raking in about $132,000.
California doesn't sound so unlivable anymore, right?
Wrongo, you sick effs. When you factor in your draconian payments for your $1,500,000 dollar home (that's the median in Mill Valley), fire insurance and hot tub repairs, the average family in Mill Valley is losing money at a rapid pace. According to the Warrior's accounting, most families in Mill Valley are losing about $200k each year that they live here.
Mill Valley, CA Cost of Living Grade: C+
Warrenton, OR Cost of Living:
Before you Warrentonians get on your high-horse about how much more affordable Clatsop County is and how the Californian economic refugees are ruing everything for you, I need to ask you a few questions about your household budgeting.
If you're making $40,000 each year, why are you driving a $180,000 car? And can you really afford to have 8 kids? Your Christmas tree farm on highway 202 will never support that.
While the average Warrentonian family is racking up $50k in credit card debt each year (compared to >$200k for Mill Valley families), you still have plenty to be concerned about. On your salary, that 30-year fixed mortgage for the median priced home in Warrenton (about $390k) is hardly tenable. Even if you were to get rid of that ridiculous car and sell your kids, you'd have to ride a bike, grow your own food and make your own clothes to avoid financial ruin.
Warrenton, OR Cost of Living Grade: B
Cost of Living Winner: Warrenton, OR
4: Architecture
Mill Valley CA, Architecture Scene:
Homes in Mill Valley are based on two architectural reference points: The Shire from Tolkein's Hobbit/Lord of the Rings and the Ewok Village in Return of the Jedi.
The Ewok-inspired homes tend to exist to the South of Throckmorton Avenue (a.k.a. Sothrock), along the roads and stairs leading from downtown all the way to Muir Woods National Monument. While these dwellings are impracticable for modern living, they work with rather than against the land. So you have to give them that.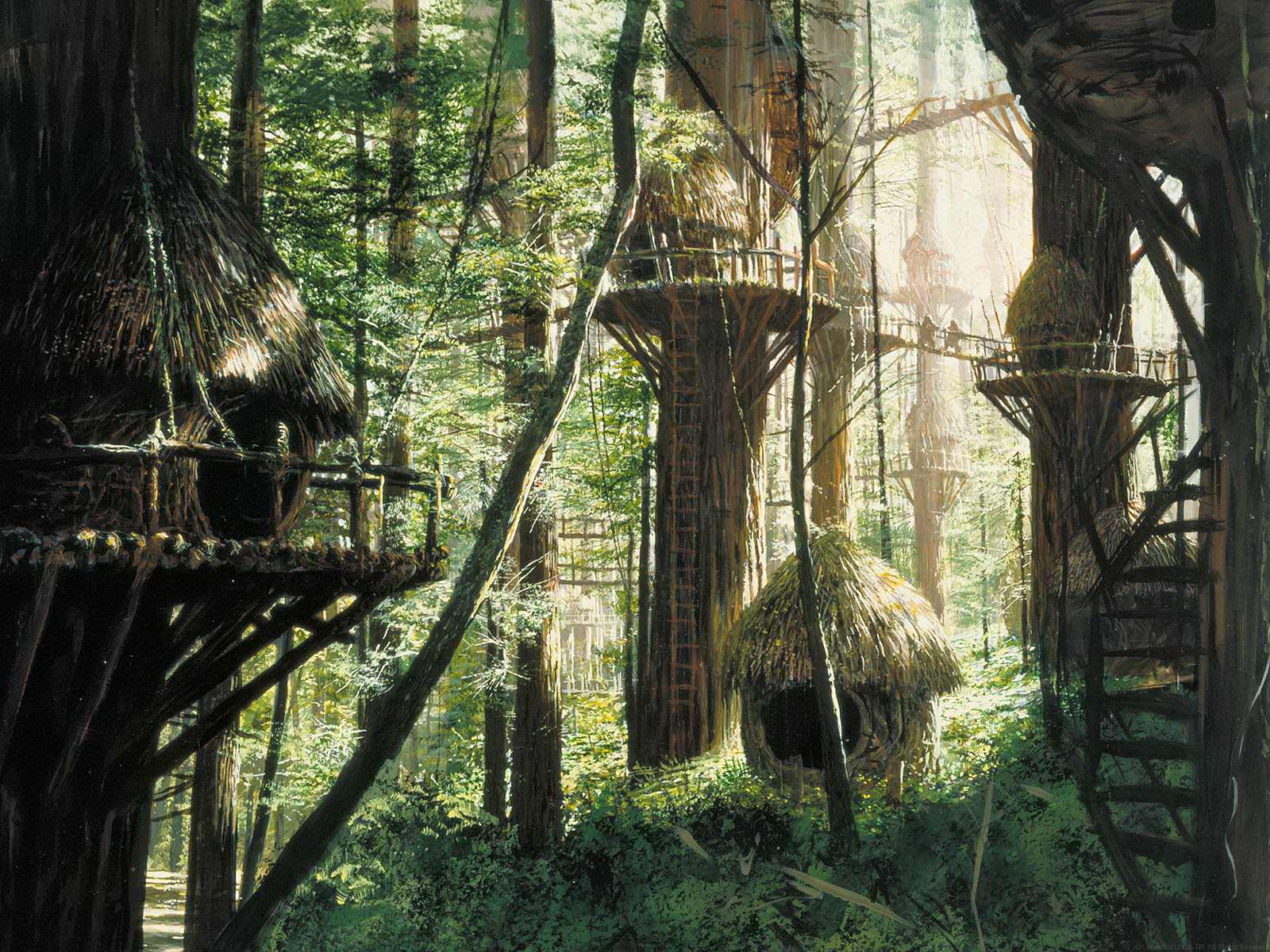 The second prominent architectural form in Mill Valley is the Shire or Hobbit-inspired home. These tend to exist along Cascade Drive and in the Northern reaches of Throckmorton Avenue (aka Nothrok). Mill Valley has a fascination with European country-esque 18th and 19th century buildings, especially ones designed for gatherings, such as its city hall and mountain/hiking/beer clubs along the ridges of Mount Tamalpais. I believe they are meant to send two Tolkein-inspired messages: first, fairy-tales are real and, second, Mill Valley is the whitest place on middle-earth.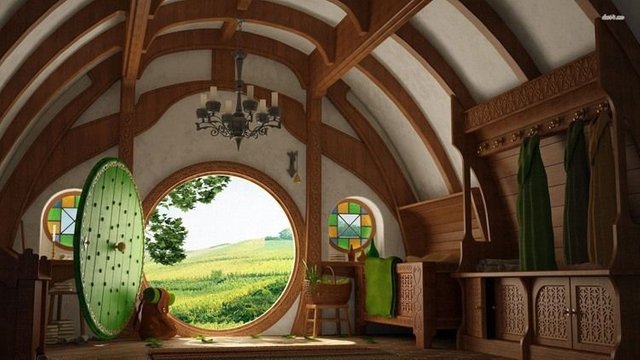 Mill Valley, CA Architecture Scene Grade: C+
Warrenton, OR Architecture Scene:
Warrenton Oregon's architecture comes in one of 5 flavors: Homesteader chic, brutalist military base, mobile, traditional box, and gear shed. Here are some examples of each, all available for purchase right now:
Homesteader Chic:
Brutalist Military Base:
Mobile: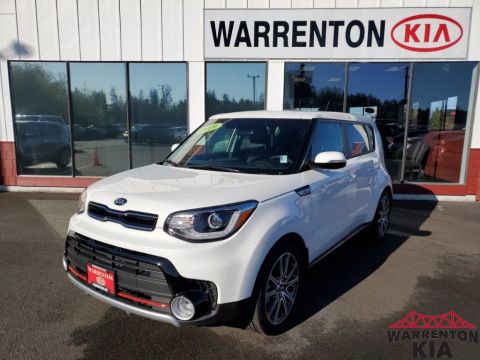 Traditional Box:
Gear Shed: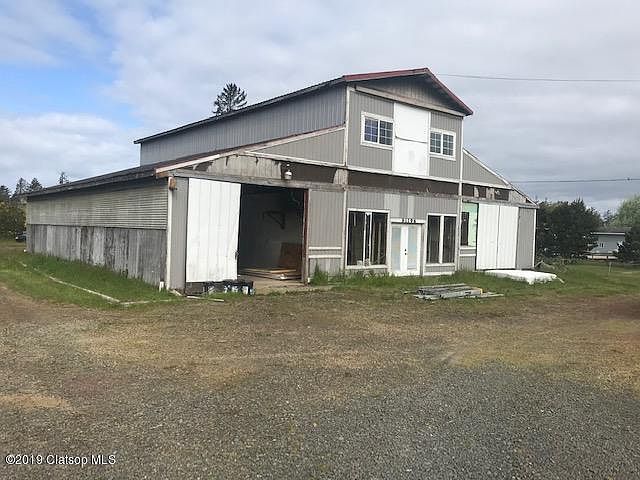 Warrenton, Oregon Architecture Scene Grade: B
Architecture Scene Winner: Warrenton
3. Art Scene
Mill Valley, CA Art Scene:
Mill Valley's art scene is much like its music scene: once thriving but now constrained by a toxic mix of unaffordability and 1960s/70s nostalgia.
Mill Valley does have a couple of galleries. They do display some surprisingly rare and valuable art works. But these galleries don't really capture the heart of Mill Valley's art scene. The scene is best summarized by an annual event called the "Mill Valley Arts Festival."
While charming, Mill Valley's Art Festival is no Art Basel. It's something between renaissance festival, craft fair and swap meet that brands itself as "Intimate, soulful, and magical."
As far as I know, no residents of Mill Valley present their creative works or even attend this event. All attendees come from Mill Valley's slightly less expensive, and slightly more bohemian neighbor to the south, Sausalito.
Mill Valley, CA Art Scene Grade: B+
Warrenton, OR Art Scene
Warrenton, Oregon is home to two notable artists: they guy who put all of the buoys on his garage (below) and my creator (for those of you unfamiliar with the Warrenton Warrior, I am a warrior, composed of thousands, maybe millions of smaller warriors, that hangs out by the Mini Mart and U.S. Post Office).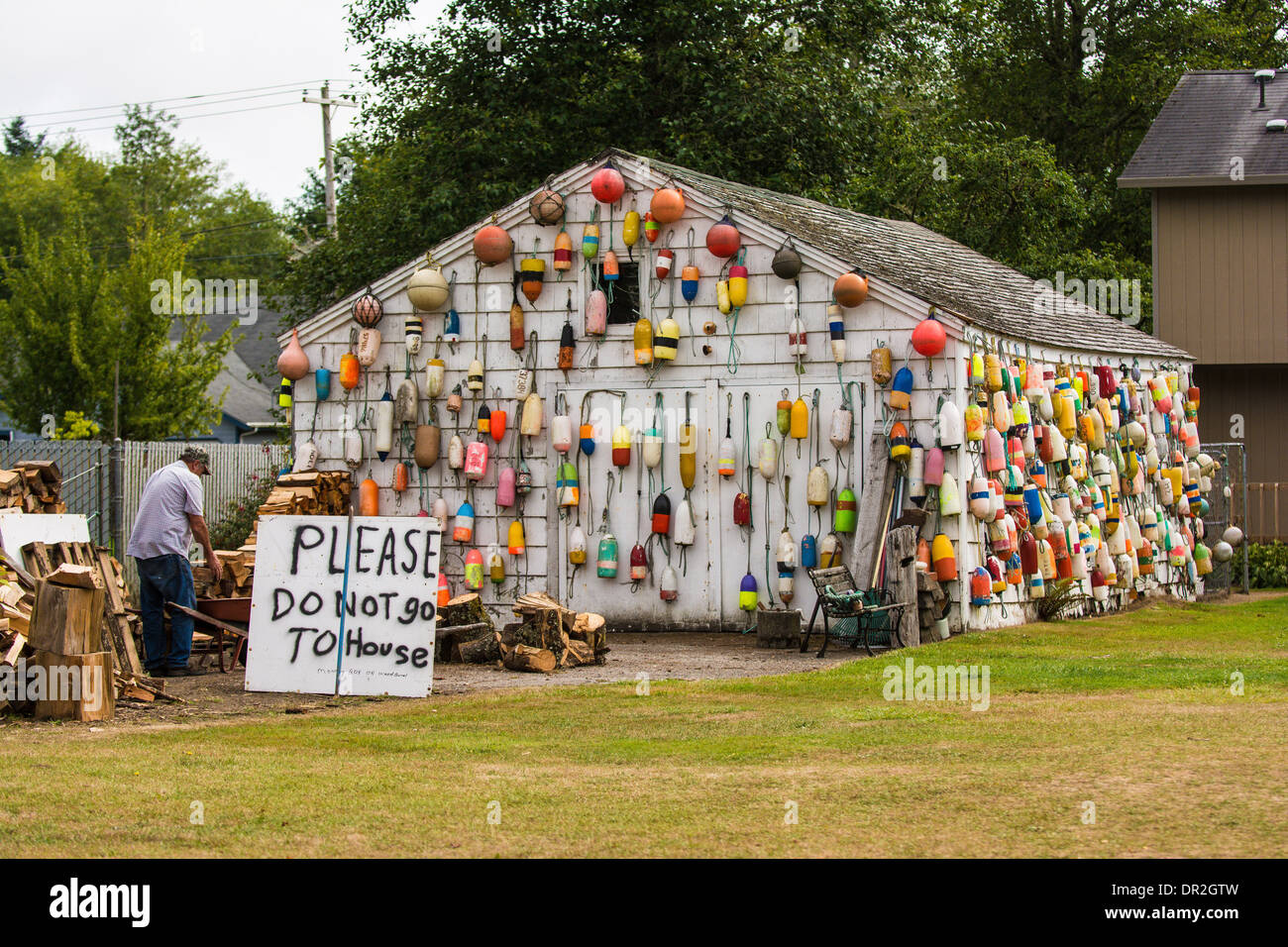 Warrenton, OR Art Scene Grade: A–
Art Scene Winner: Warrenton, OR
2. A-Frames
Mill Valley, CA A-Frames:
I see a lot of these when driving around Mill Valley, but I can only confirm that two have been sold recently on Zillow.
The first is in the traditional Mill Valley, middle-earth style and is reminiscent of Mill Valley's city hall.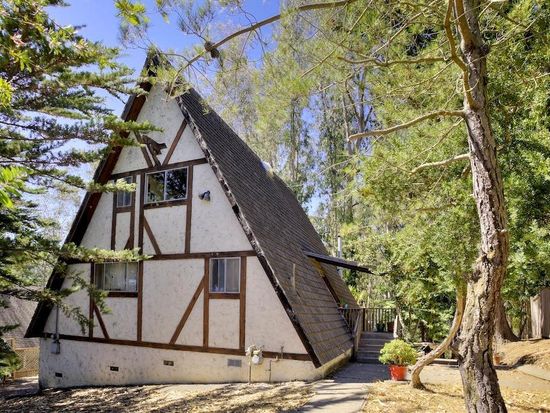 Below is the second one I can find on Zillow, which is a little less cheery than the first, but shows the shingled-side of Mill Valley that I didn't properly address in the architecture section. It's exactly the type of place I'd expect the seller to place on the MLS, sans agent, complete with photo of a scooter, dirtbike, and something covered with a blue tarp.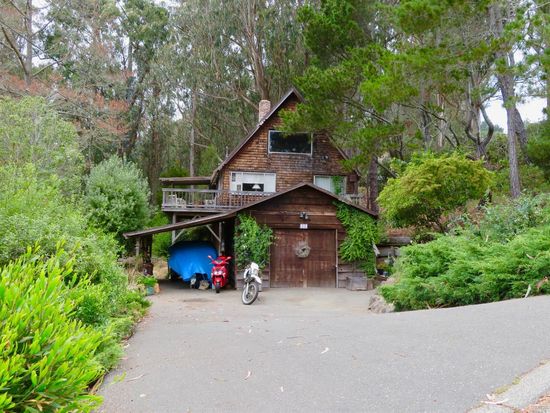 Mill Valley A-Frames Grade: B
Warrenton, OR A-Frames:
Warrenton has plenty of these– more than you'd expect. The Warrior, in fact, lived in two particularly notable specimens between 1st and 3rd grades (both rentals, for better or worse depending on how you see it).
One of them is on NW 1st street and I can't find any photos of it online. But, when I last drove by it, it was either a vestige of its former glory, or I remember it being a lot nicer looking outside than it really was.
The second was in the Northwest Warrenton (f.k.a. Hammond) and has plenty of photos on Zillow. It looks more-or-less unchanged, hot tub and rusty yard decorations and all. The only notable difference is that the fake seagulls and rope-rail fence on the river-facing side of the property has been replaced with driftwood- a nice modernizing touch.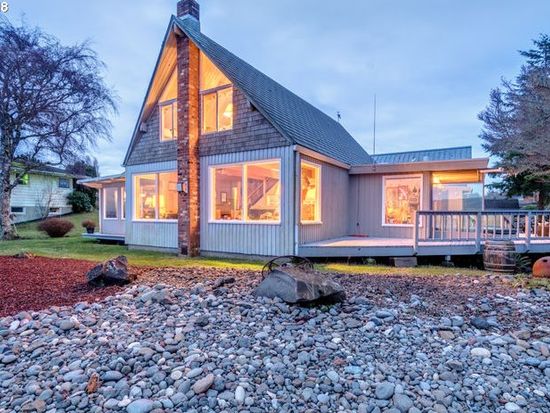 Warrenton, OR A-Frames Grade: A+ (really over-delivering)
A-Frame Winner: Warrenton
1. Economy
Mill Valley, CA Economy:
Don't let Mill Valley's unemployment rate (a measly .9%) fool you. There are no jobs in Mill Valley. And residents are forced to cross the Golden Gate Bridge into San Francisco every morning, just to make a buck.
San Francisco is no place for any self-respecting Mill Valleyite (Valleyer?). As they enter through the NW border of SF from Marin each morning, they encounter little cultural resistance. The Presidio and Marina are filled with younger version of themselves– affluent financial-industry types who's interests include watching sports and Netflix and, maybe if they're especially interesting, road biking. But as they move further south and to the east, they encounter a hellscape of homeless encampments, independently owned bookstores and music venues, and restaurants with difficult-to-pronounce Central-American, Middle-Eastern and Asian dishes.
Fortunately for Mill Valley residents who are forced to find work in San Francisco, the former bohemians and artists of SF are systematically being replaced by un-threatening tech nerds. And I don't mean "nerds" in an "I've been nerding-out on Brazilian Tropicalia lately" kind-of-way. I mean "nerds" in the pejorative sense– people with no taste for an epicurean lifestyle or any interest in visual arts, music, literature, or film. I'm talking about people who wear athletic gear in an urban environment, but aren't exercising, and think Toto was kind-of-a cool band.
Disgusting.
Mill Valley, CA Economy Grade: F-
Warrenton, OR Economy
Long-time readers know the Warrior supports revitalizing Warrenton's fishing industry by combining three things: 1) Canneries, 2) Tourism, and 3) The North Coast Business Park. My economic revitalization plan, which has been praised as, "certainly one way of thinking about things" by local leaders, would create a second Skipanon River that leads to the North Coast Business Park (this river would be branded as SKR2.0). Point Adams Cannery's operations would be moved to this site, along with a corporate HQ for Fultano's Pizza (blah, blah, blah… you've heard this plan before).
A detailed description of my plan can be found here.
Aside from the amazing investment opportunity that is SKR2.0, I also like that Warrenton's city planners aren't afraid to make bold moves. Moves like having a T. Mobile Store, AT&T Store, and a Verizon Store all in one small town. Or having a Fred Meyer's, Costco, and a Wal-Mart. Or a Wendy's, Taco Bell, Panda Express, Dominos, Dairy Queen, and a Subway. Or creating luxurious employee housing for the Pacific Seafoods cannery's seasonal workers right near the city center. I suspect that Warrenton is only 3-4 more formula retail stores, or "fast casual" chain restaurants away from getting their unemployment rate down from 4% to .9%. You can do this, Warrenton.
Warrenton, OR Economy Score: A- (Will be A+ once we get that second Skipanon river flowing to the North Coast Business Park).
I've tallied the scores and Warrenton's GPA barely beats Mill Valley's. Congratulations to Warrentonians for keeping waterfowl hunting legal, and for going into far less debt every year than its distant, just-West of highway 101 cousins, 700 miles to the south.
Final Winner: Warrenton, Oregon